Chelsea Clark : NYC  SAG-AFTRA Actress & Voiceover Artist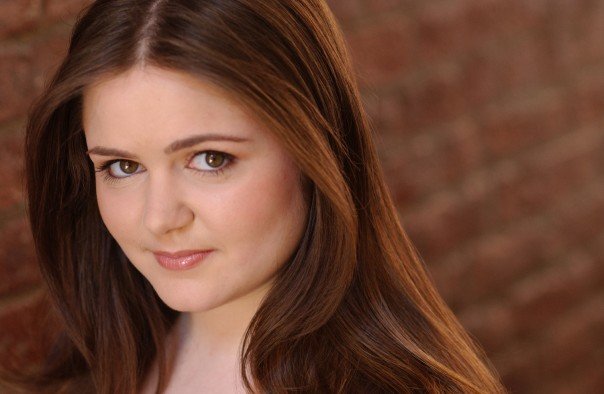 Intuitive . . . Versatile . . .

Quirky . . . Facially

Expressive
Character Type: Ingenue
Age Range: 17-27
Film & Theatrical Genres: Comedy, Drama, Dramedy, Epics/Historical, Horror, Sci-Fi, Western, Film Noir, Romantic, Melodrama, Avant-garde, Political theatre, Pantomime
Portrayable Ethnicities: British, Caucasian/White, European, French, German, Irish, Italian, Native American Indian, Russian, Scottish
IMDb link: http://www.imdb.me/chelseaclark
iActor (SAG-AFTRA) resume: http://www.sagaftra.org/iactor/ChelseaClark
NYCastings resume: http://www.nycastings.com/chelseaclark
Casting Networks resume: http://www.castingnetworks.com/chelseaclark
NowCasting resume: http://www.nowcasting.com/chelseaclark
LinkedIn: http://www.linkedin.com/in/chelseaclarkactress

YouTube channel:  http://www.youtube.com/user/jjacclark
COMING SOON
READINGS AT BARUCH COLLEGE
Performing as Minnie in MICKEY v. MINNIE, a play by Sharon Goldner, with Juan Carlos Diaz;  and as Female Roles (Girls Getting License/Olga/DMV Lady) in PUSH-UP by Sam Graber, with Juan Carlos Diaz and Frank Williams;  at Baruch College, Tuesday, October 13, 2015  Directed by Vincent Scott

SIX MORE WEEKS
Written & directed by Lawrence Schwabacher; performing at the Manhattan Repertory Theatre on Monday, November 9, 2015; Tuesday, November 10, 2015; Wednesday, November 11, 2015 & Friday, November 13, 2015.  All performances at 6:30 p.m.  Manhattan Repertory Theatre is located at 303 W. 42nd Street at 8th Avenue, on the 6th Floor.  For ticket reservations email: MRTRESERVE@GMAIL.COM.  Please reference show date and number of tickets.  $20

 
PAST EVENTS IN 2015
The Crime is in Getting Caught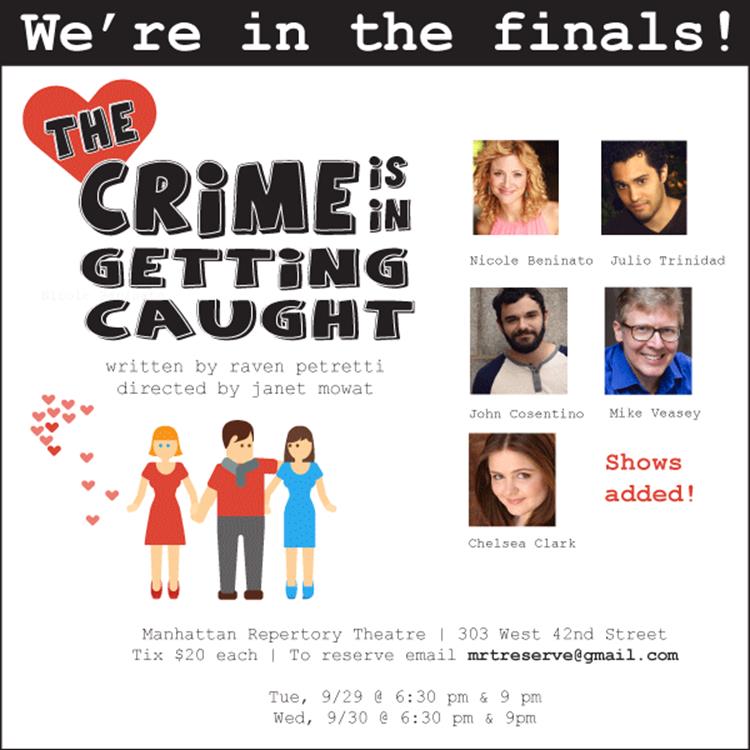 Performed as Janet in Raven Petretti's short play at Manhattan Repertory Theater, as part of the Fall One Act Play Competition. Directed by Janet Mowat.     9/29 at 6:30 p.m & 9:00 p.m.; 9/30 at 6:30 p.m. & 9:00 p.m., 9/21, 9/24, 9/25 & 9/26 at 6:30 p.m.  Manhattan Repertory Theatre.  $20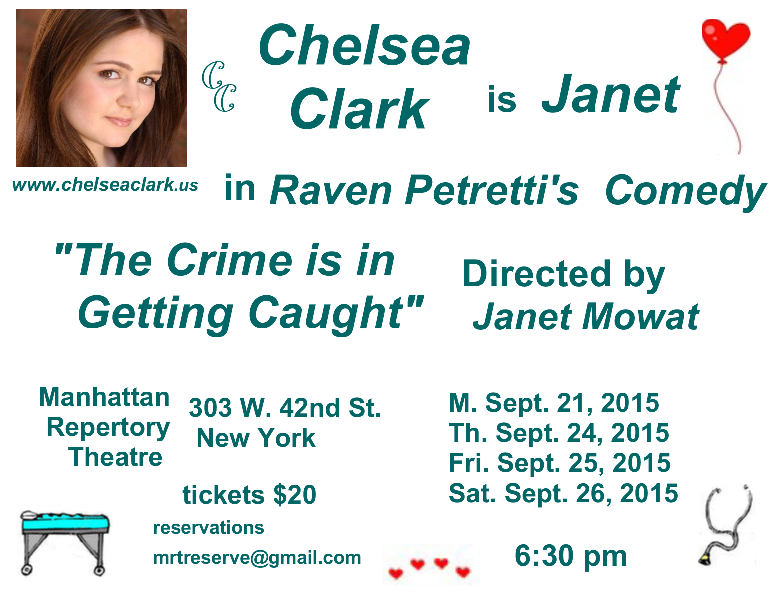 READING BETWEEN THE LIES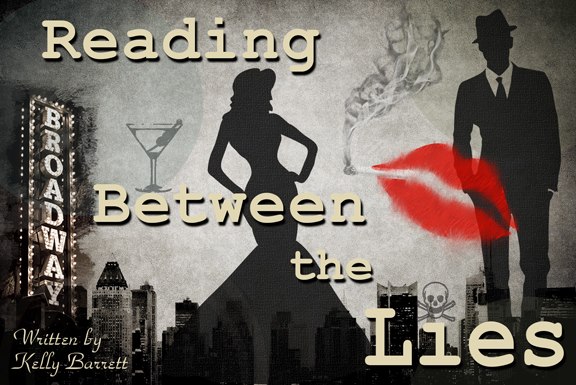 GREAT REVIEWS FOR READING BETWEEN THE LIES:
CRAZY TOWN blogs: "The Buzziest Shows at NYC Fringe" (Managing editior: David Davila) http://www.crazytownblog.com/crazytown/2015/08/the-buzziest-shows-at-nyc-fringe-2015.html
NYC Fringe: Reading Between the Lies has the Heart of a Wonderful 1940s Screwball Comedy http://whatsonoffbroadway.com/2015/08/15/nyc-fringe-reading-between-the-lies-has-the-heast-of-a-wonderful1940s-screwball-comedy/
Reading Between the Lies in nytheater now by Josephine Cashman  http://nytheaternow.com/Content/Article/2015-8-18-reading-between-the-lies
Reading Between the Lies in Theatre is Easy by Nancy Kelly                                        http://www.theasy.com/Reviews/FringeFestival/2015/readingbetweenthelies.php
Venue #13: The Lynne Redgrave Theater @ Culture Project, 45 Bleecker Street (at Lafayette), New York, NY  10012 http://cultureproject.org/contact/   Dates & times: Friday 8/14/2015 @ 4:45 p.m.; Monday 8/17/2015 @ 2:15 p.m.; Thursday 8/20/2015 @ 9:45 p.m (cancelled due to air conditioner malfunction)

VENUE CHANGE FOR Wednesday 8/26/2015 @ 7:45 p.m.; Saturday 8/29/2015 @ 5:15 p.m.: SOHO PLAYHOUSE, 15 Vandam St, New York, NY 10013 http://www.sohoplayhouse.com/visit
CASTING ACCESS WORKSHOP
Attended a SAG Foundation workshop with casting director David Vaccari of Telsey & Company, August 19, 2015.
BARD AT THE BAR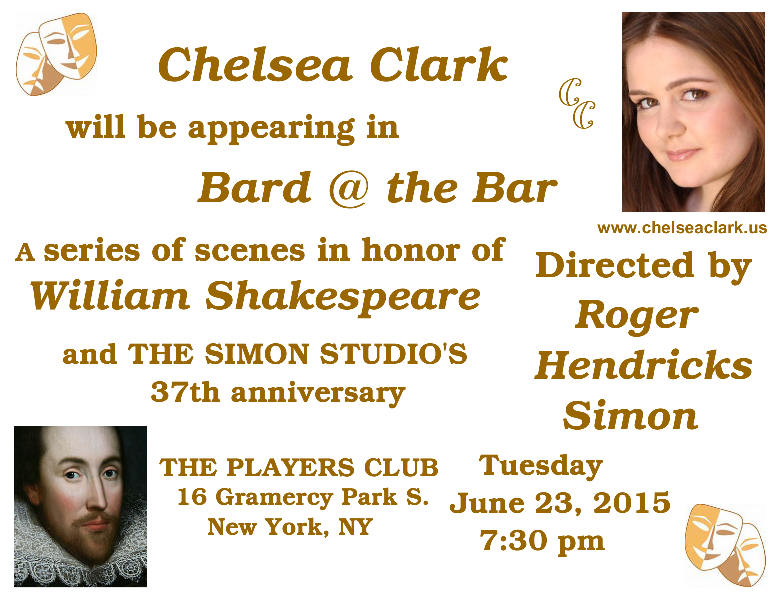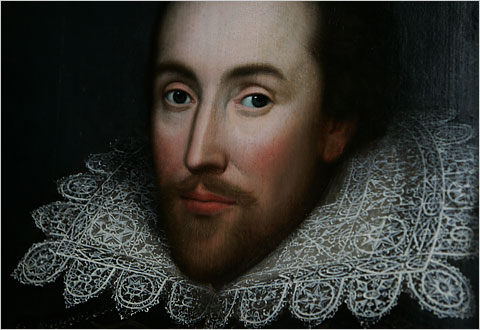 Roger Simon and The Simon Studio annual event, BARD AT THE BAR, in honor of William Shakespeare's 451st birthday and THE SIMON STUDIO'S 37th anniversary.
…This annual SIMON STUDIO celebration event is an environmental performance collage – scenes, songs, music and dance by William Shakespeare, featuring current studio members, alumni & special guests from The Players Club, film, Broadway and London stage worlds.
DETAINEE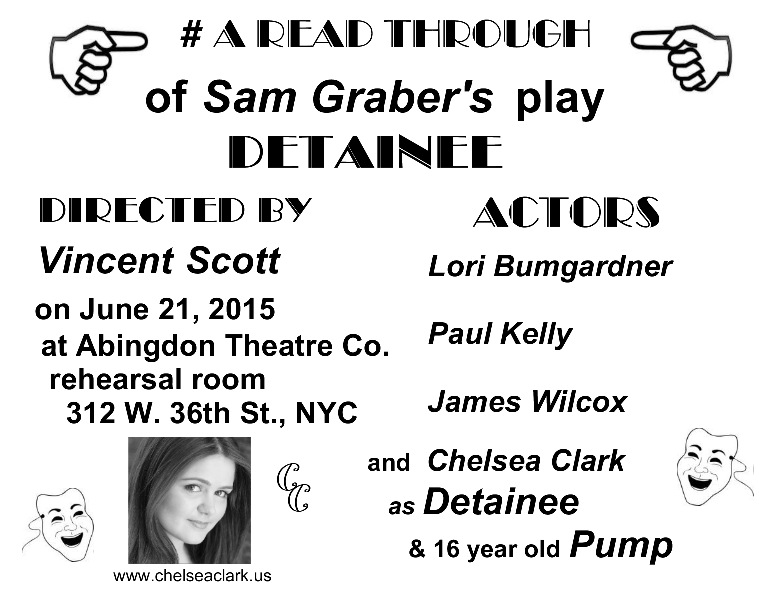 Read through of Sam Graber's play, DETAINEE with actors Paul Kelly, Lori Bumgardner and James Wilcox.  Directed by Vincent Scott on Sunday, June 21, 2015 at Abingdon Theatre Company rehearsal room, 312 W. 36th Street, NYC.  Cast as Detainee and 16-year-old Pump.
actorsconnection SEMINARS

Attended actorsconnection seminars with casting director Judy Bowman CSA of Judy Bowman Casting, June 4, 2015; casting director Meredith Jacobson Marciano of Amerifilm Casting , June 8, 2015; Erica Palgon of Erica Palgon Casting & Beyond, June 9, 2015; personal manager Jennifer Konawal of Washington Square Films, June 15, 2015

THE KNICK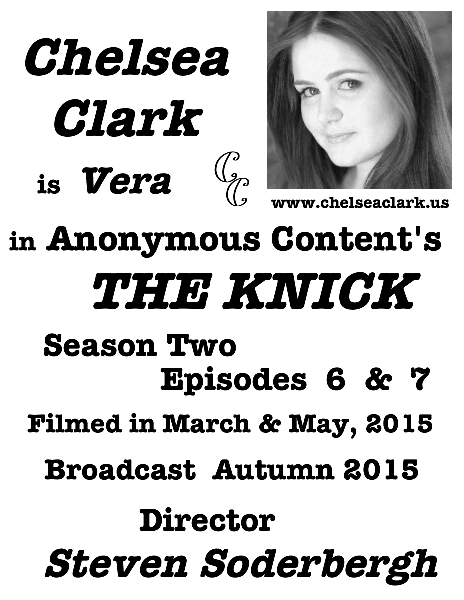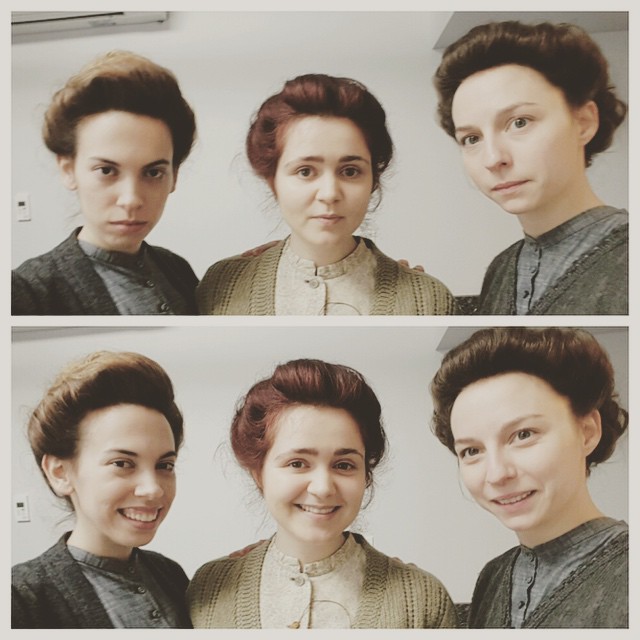 Cast as Vera in a recurring role on The Knick, a Cinemax television show directed by Steven Soderbergh.  With Melanie Brook as Frances and Rebekah Brockman as Nettie.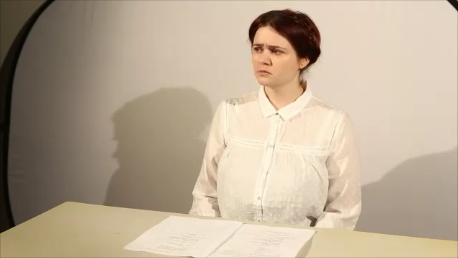 Still from audition video for THE KNICK
Thanks to Pauly Cunningham of coolworld PHOTOGRAPHY FILM & DESIGN, Marysville, Ohio.  January 3, 2015.

http://www.coolworldphotography.com/
actorsconnection WORKSHOP
Attended an actorsconnection workshop with casting director Kim Miscia of Bowling/Miscia Casting, May 9, 2015.
CASTING ACCESS WORKSHOP
Attended a SAG Foundation workshop with casting director Scott Wojcik of Wojcik/Seay Casting, May 7, 2015.
RESTORATION 4.0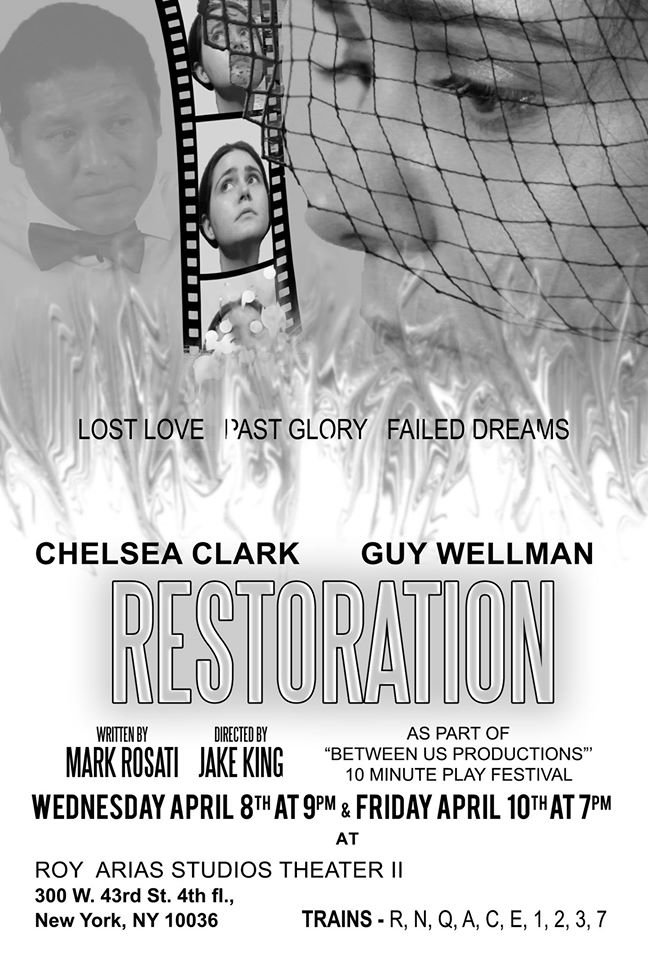 Mark Rosati's short play had its fourth NYC run in April, 2015 at Between Us Productions' Take 10: A 10 Minute Play Festival at the Roy Arias Studios, Theatre II.  Directed by Jake King, with Chelsea Clark as silent film star Renee Falconetti and Guy Wellman as the bartender.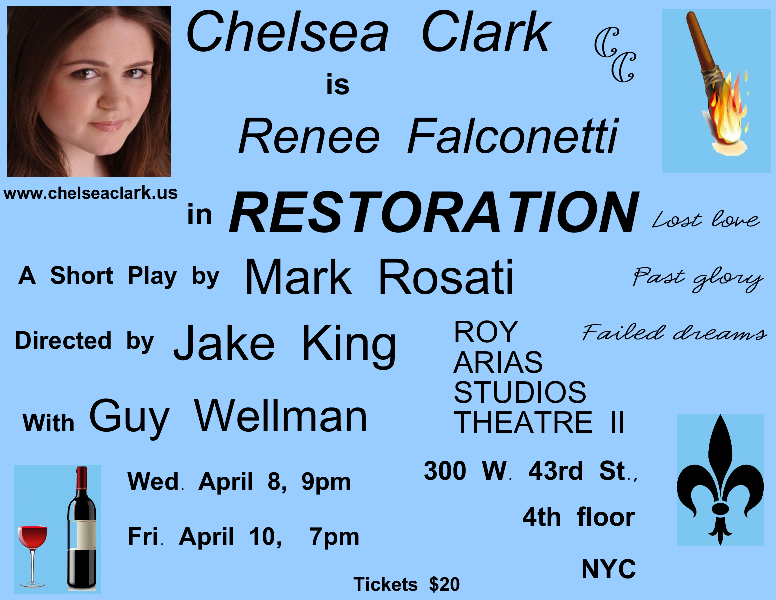 TENNESSEE WILLIAMS/ANTON CHEKHOV BIRTHDAY CELEBRATION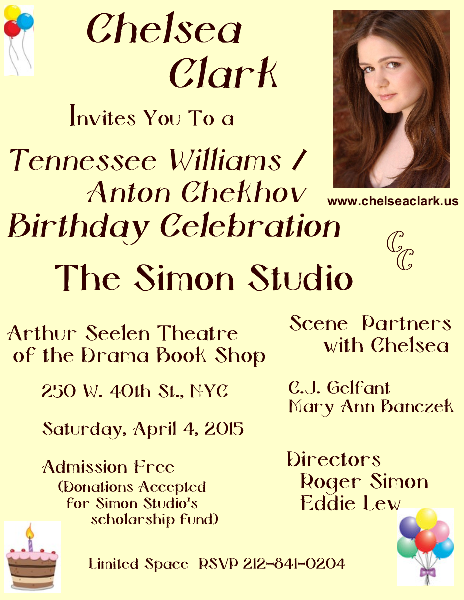 Directed by Roger Hendricks Simon Associate directors: Eddie Lew, Mildred Purdy, Vincent Scott, Lora Lee Ecobelli
Chelsea Clark is Bertha in Tennessee Williams' short play, HELLO FROM BERTHA.  With Mary Ann Bonczek.
EXTINCT/EXTANT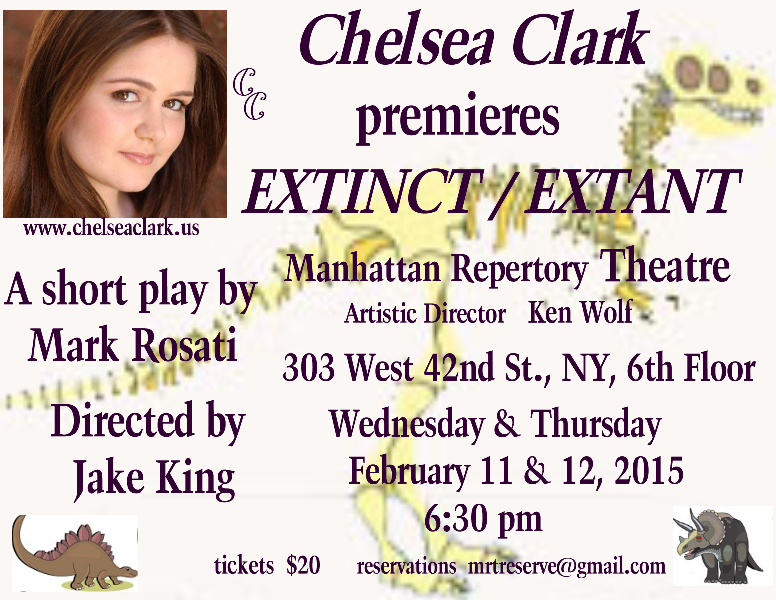 Press release by playwright Mark Rosati:
  A very short play with a very tall character – an ironic look at mass extinction and a world on fire.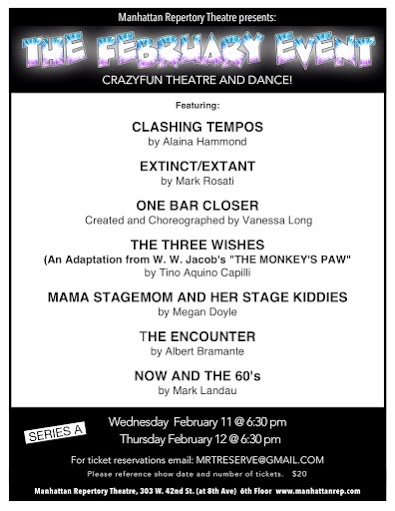 http://manhattanrep.com/the-february-event-2015/
NYCAP WORKSHOP



Attended a SAG Foundation Casting Access
workshop with casting director Kim Moarefi,
1/22/2015