CHELSEA CLARK SAG-AFTRA NYC Actress


Chelsea Clark : NYC
     SAG-AFTRA Actress,
          Print Model
                & Voiceover Artist
Discover NYC SAG-AFTRA actress, print model and voiceover artist Chelsea Clark – view demos, film clips and shorts, headshots, photo galleries and more. . .
Character Type: Ingenue
Age Range: 17-24
Film & Theatrical Genres: Comedy, Drama, Dramedy, Epics/Historical, Horror, Sci-Fi, Western, Film Noir, Romantic, Melodrama, Avant-garde, Political theatre, Pantomime
Portrayable Ethnicities: Caucasian/White, European, Italian, Irish, German, Native American Indian
email: chelseaclarkactress@aol.com   
IMDb link: http://www.imdb.com/name/nm4410344
iActor (SAG/AFTRA) resume: http://www.sagaftra.org/iactor/ChelseaClark
NYCastings resume: http://www.nycastings.com/chelseaclark
Casting Networks resume: http://www.castingnetworks.com/chelseaclark
NowCasting resume: http://www.nowcasting.com/chelseaclark
LinkedIn: http://www.linkedin.com/pub/chelsea-clark/23/296/972
Coming in 2014
SKIN CARE

- Performing as the esthetician in Mark Rosati's 2-person play, SKIN CARE, in the Manhattan Repertory Theatre's Winter One-Act Competition 2014, Jan. 7, 8, 9, 10 & 11, 2014, all performances at 9 p.m.,  at 303 W 42nd Street, NYC
Performing in Lee Solomon's The

New One-Act Festival

on Saturday, January 18, 2014 at 2 p.m. and 8 p.m.  Appearing as The Professor in THE ROOFTOP LESSON and as Delia the Client in THE ANGEL WHISPERER.  Performances at CAP 21 Studios, 18 W 18th Street, NYC
VIXENS OF VIRTUE VIXENS OF VICE

- Reprising  the role of Mistress Mannequin for Rob Longo's  VIXENS OF VIRTUE VIXENS OF VICE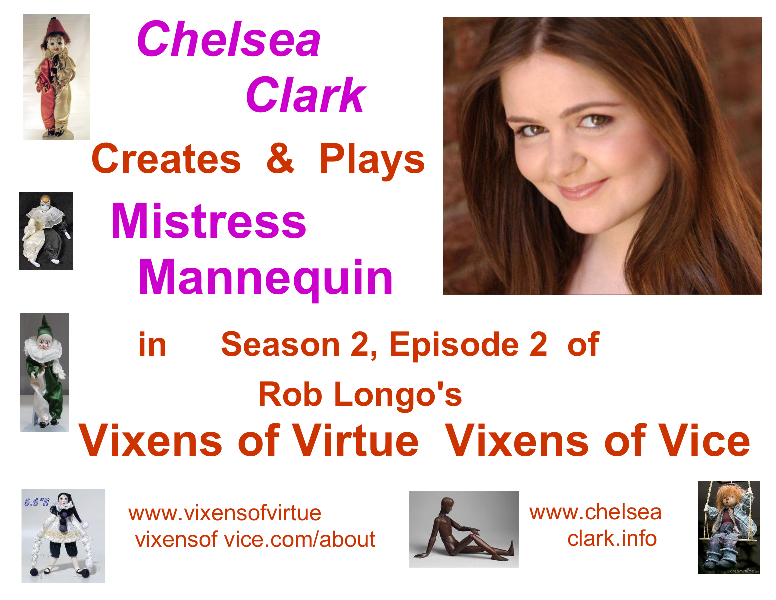 News for 2013
DEBATE TEAM MOCKUMENTARY: Cast as sole female debate team member Ann in a film short by Seton Hall University's Samantha Nakhoul, filmed December 7, 2013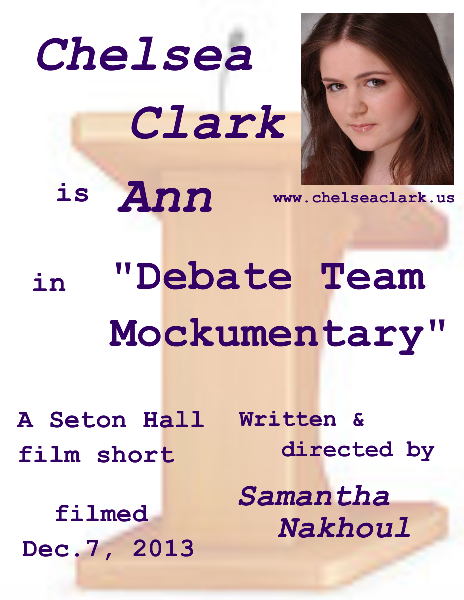 DEAD ON ACTING: Season finale of Jimmy T. Martin's webisode DEAD ON ACTING, Episode 6 "The Death Jam", was released on 12/1/2013.  Chelsea Clark is recurring character Bobbi Princeton.  All episodes may be viewed in order below, or at
 http://www.chelseaclark.us/demos-film-shorts-new-media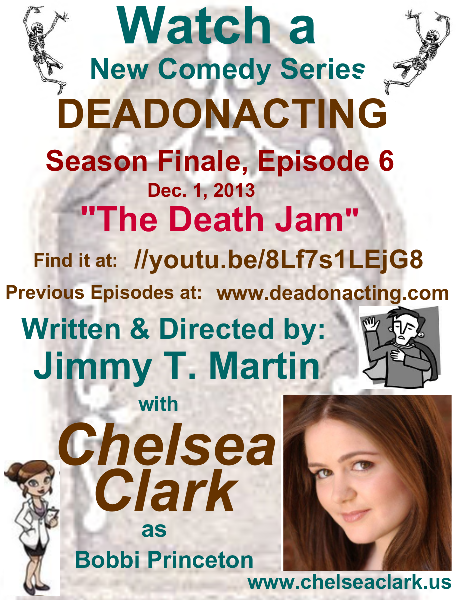 MONOMYTH:  Sam Cooke's MONOMYTH was selected for its 3rd film festival.  MONOMYTH appeared at the Williamsburg Independent Film Festival on Saturday, November 23, 2013 in the "Final Fantasy" section, which started at 10:00 p.m.  A clip from MONOMYTH appears below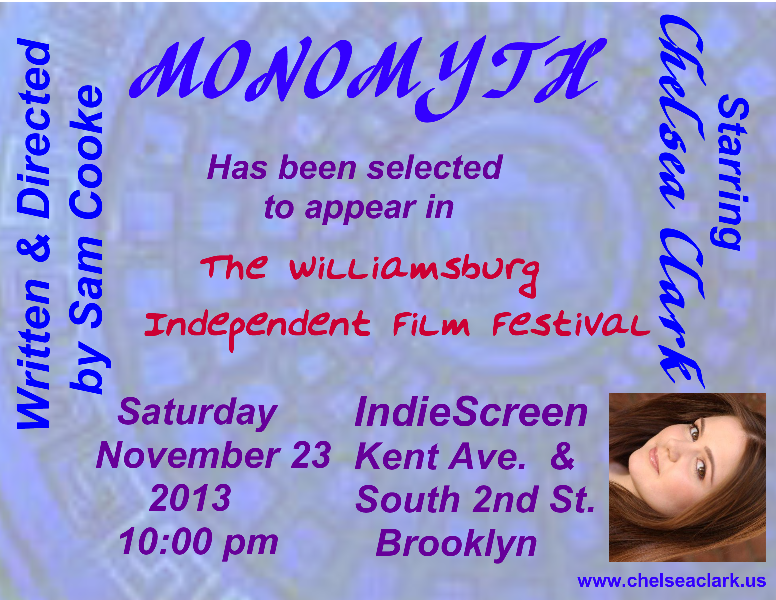 I CRY YOU MERCY EVERYONE

: Reappeared in Lisa Monde's musical, I CRY YOU MERCY EVERYONE, as wench Jeanette.  Performance took place on Sunday, November 24, 2013 at the 13th Street Repertory Company, 50 W. 13th Street, NYC, at 8:00 p.m.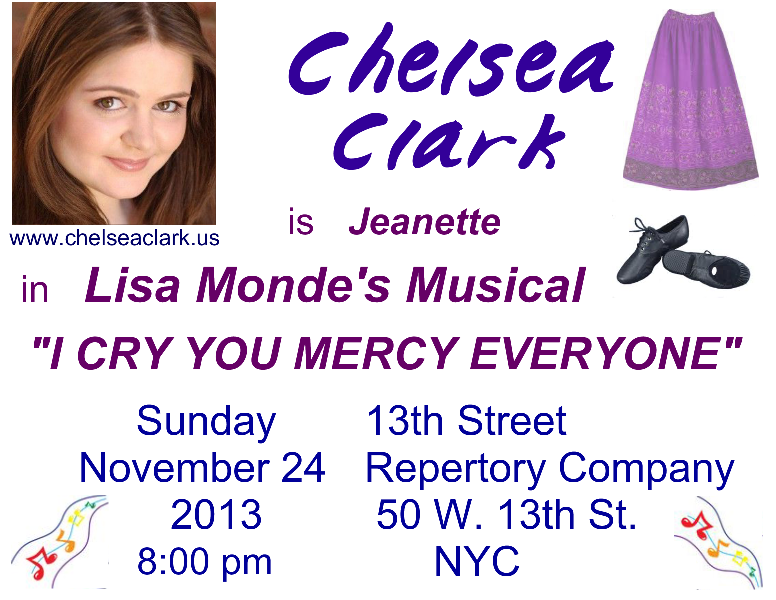 CURTAINS – Assistant Director and Stage Manager for Bishop Kearney High School's musical, CURTAINS.   November 8, 9, 15 & 16, 2013, 2202 60th Street, Brooklyn, NY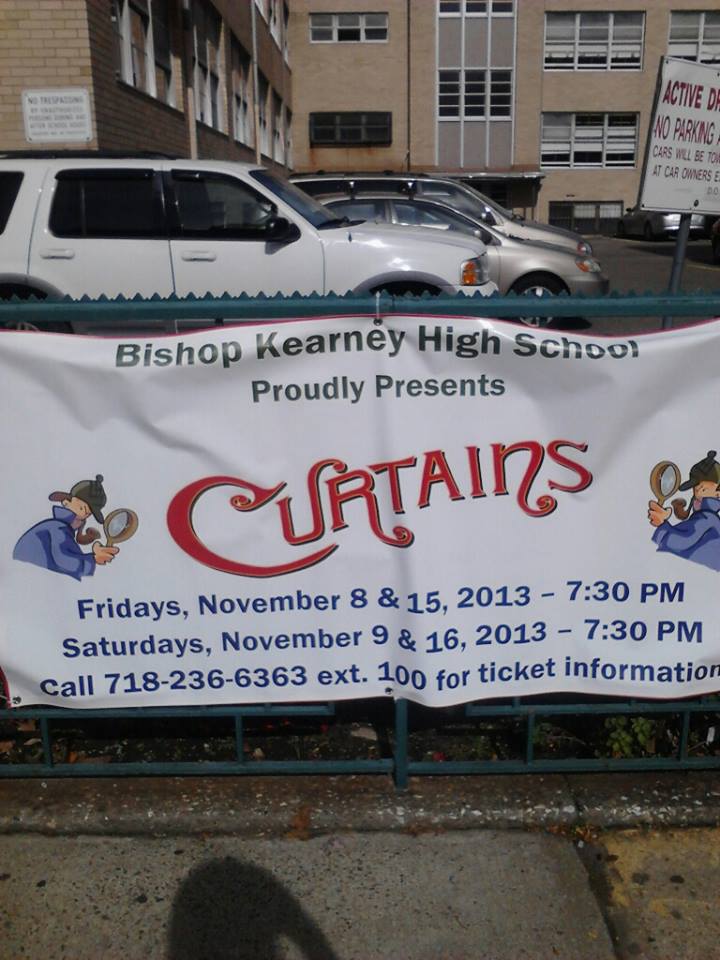 DRACULA'S CALL – Performed as the vampyress Anais in Lisa Monde's musical DRACULA'S CALL at The Duplex Cabaret Theatre, October 28 & 29, 2013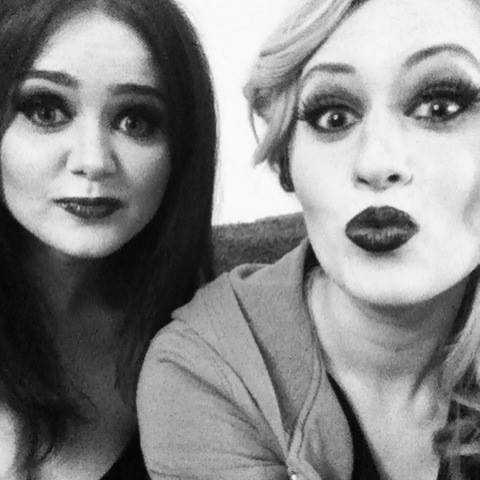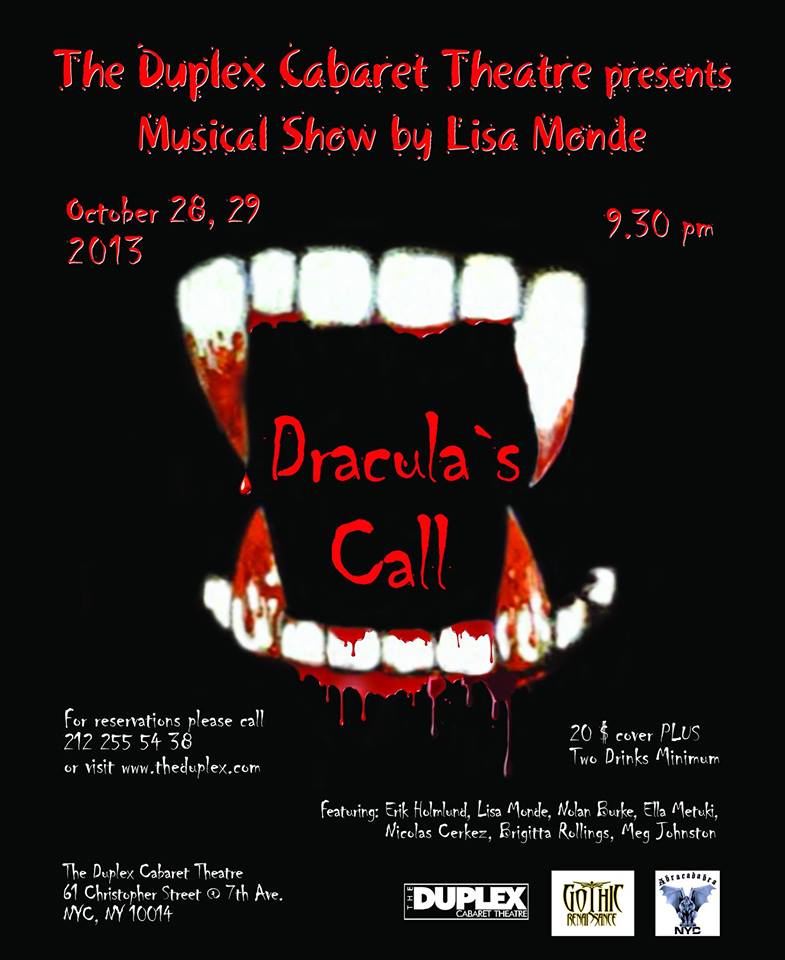 MONOMYTH: Selected for 2 Film Festivals, with Chelsea Clark as lead Winona. MONOMYTH was filmed 1/10-1/14/2013 in NYC & Westchester, voiceover 3/4/2013, final dubbing 3/26/2013.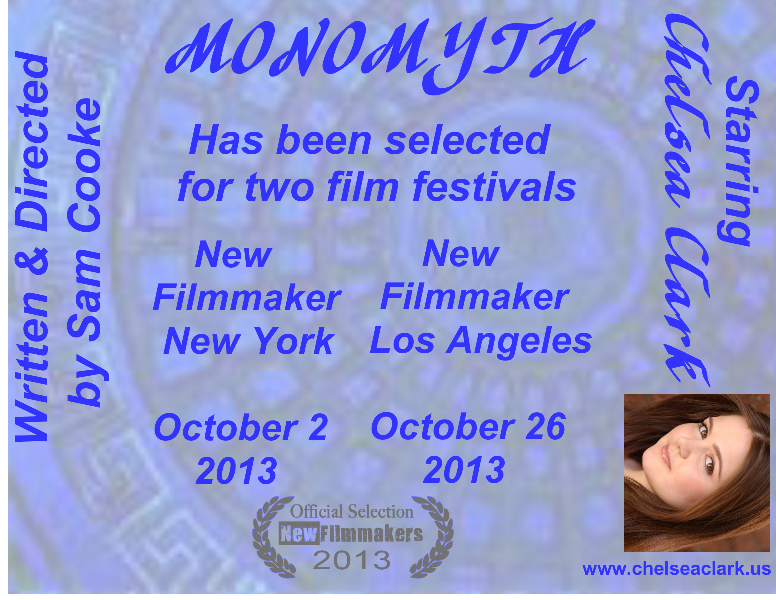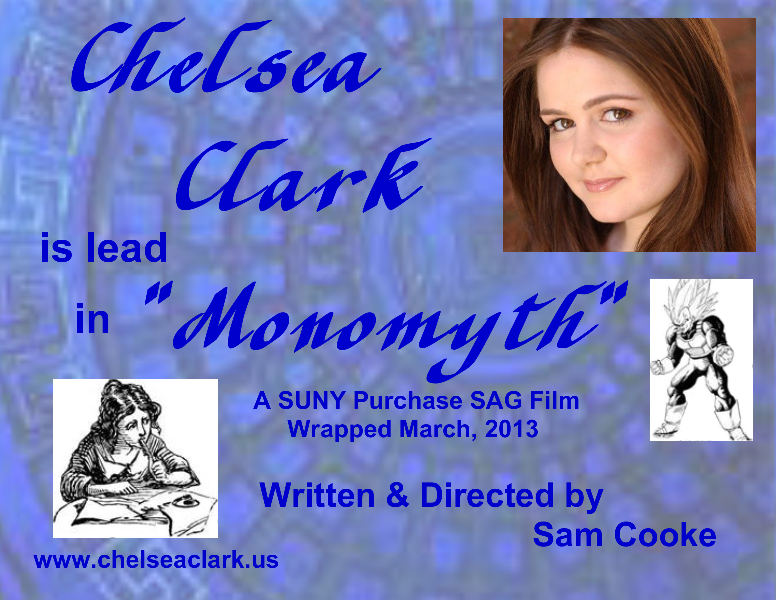 THE DEATH OF APRIL - Full-feature Film Premiere – THE DEATH OF APRIL screening/premiere Monday, October 7, 2013, 8 p.m. at The Producer's Club Theatre, 358 West 44th Street (corner of 9th Ave.), NYC.  Appearing as best friend/supporting Heather Cody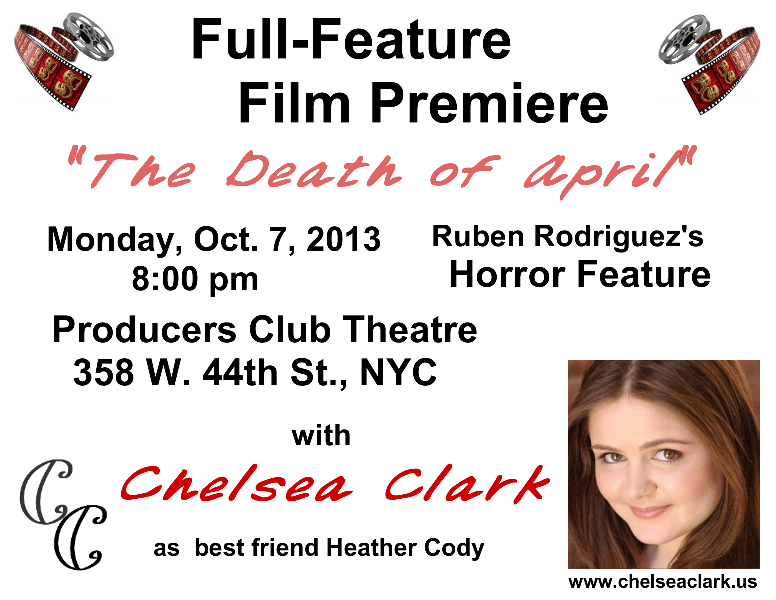 TAPYNYC (The Actors Project NYC) - Participated in TAPNYC Season 27, performance: MAYBE IT'S YOU, October 14, 2013, 7:20 p.m.  at THE JUNE HAVOC THEATRE, 312 West 36th Street, NY  Monologue: Deidra in "THE YOUNG LIKELY-HOODEDNESS", by Stephanie Blair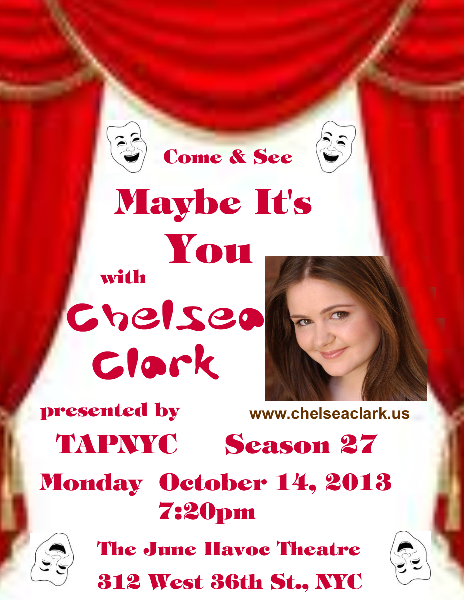 I CRY YOU MERCY EVERYONE –  -  Cast as Jeanette in Lisa Monde's musical, I CRY YOU MERCY EVERYONE, about controversial medieval French poet Francois Villon; performances 10/4/2013 & 10/5/2013, 8 p.m., Joria Productions Mainstage Theater, 260 W. 36th Street, NY, NY  10018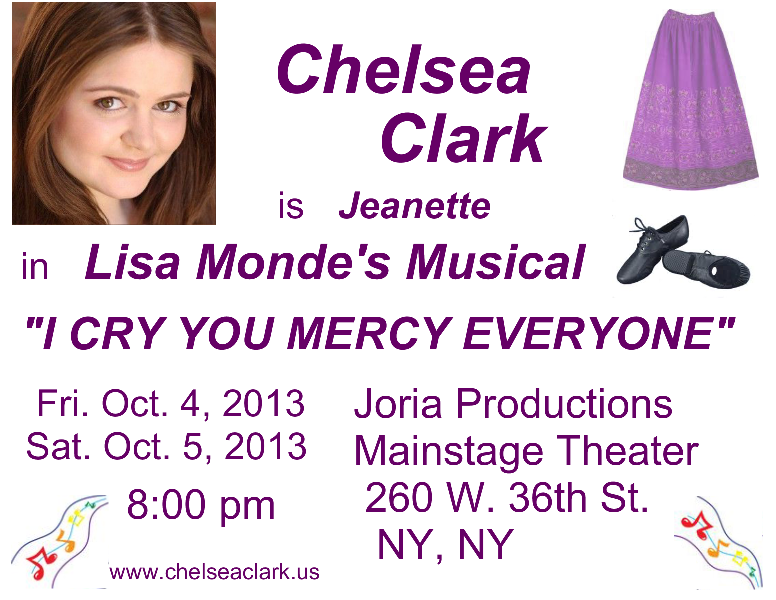 RESTORATION (The Film) – Filmed Mark Rosati's RESTORATION, directed by Jake King, also starring Guy Wellman, October 3, 2013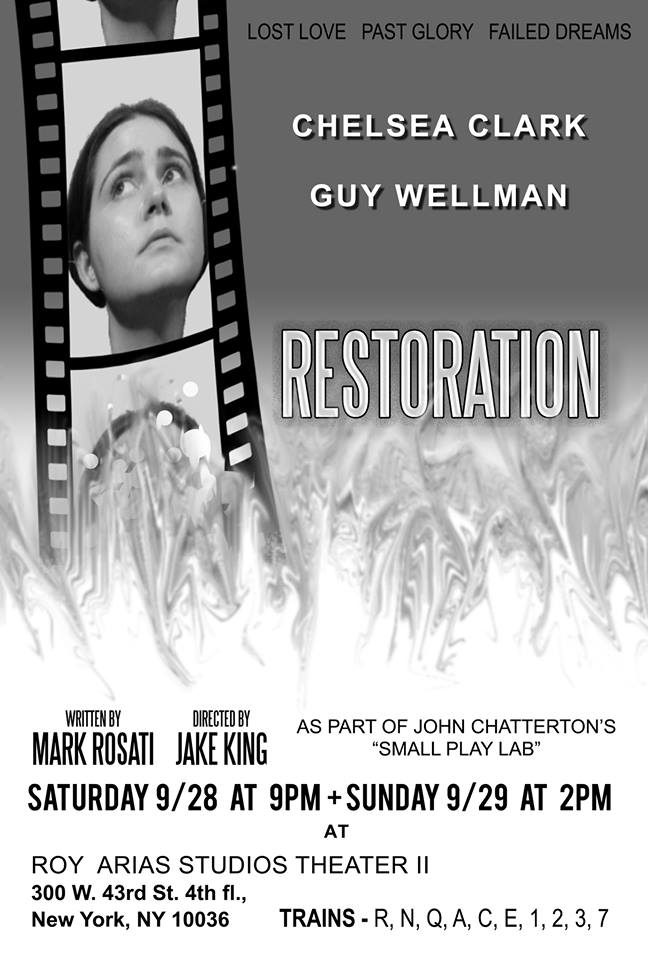 MSF TALENT AGENCY – Now being represented by Robyn Bryce through the Print Division of MSF Talent Agency, NYC 
RESTORATION – Cast as French stage actress and silent film star Renee Jeanne Falconetti in Mark Rosati's play, RESTORATION, directed by Jake King, 9/28/2013 and 9/29/2013 through John Chatterton's Short Play Lab, Roy Arias Studios, 300 West 43rd Street, NYC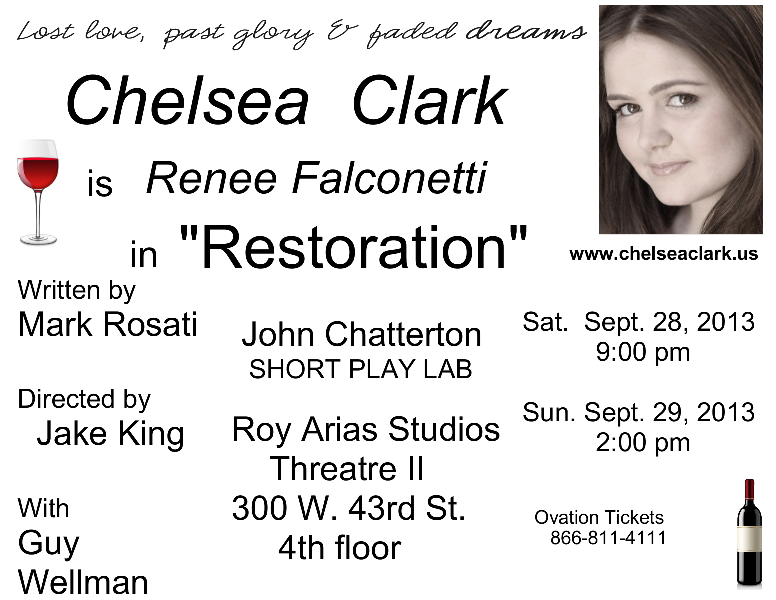 EMERGING TALENT – Now freelancing with Albert Bramante of Emerging Talent, NYC agent with office in Linden, N.J.
DEAD ON ACTING – Cast as recurring character Bobbi in new webisode written and directed by Jimmy T. Martin of Mayamo Jimmy Productions; all 6 appear below.  Season I is complete.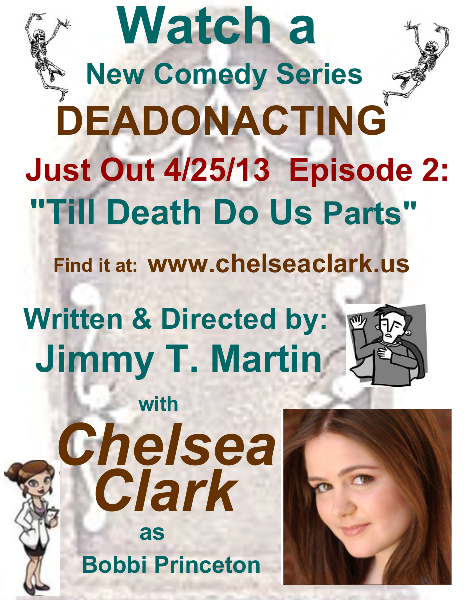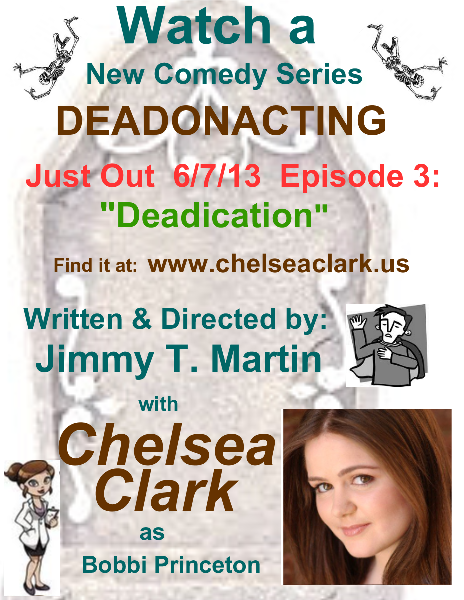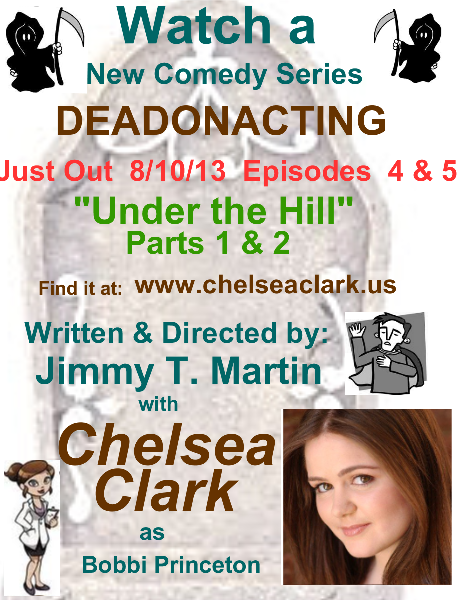 TAPNYC (The Actors Project NYC) - Participated in TAPNYC Theater Troupe's Season 25, "Comedy of Characters", at The Abingdon Main Stage Theatre, NYC, 2/18/2013.  Monologue: Ruby in BOOKS INSPIRE ME

TAPNYC FEATURED MEMBER MONDAYS! Every Monday we feature an actor, in our theatre company, who is AMAZING! This week we feature TAPNYC Lifetime Member: CHELSEA CLARK
ALEX & GINNY – Cast as Ginny in Lucas M. Schepp's 2-person StoneStreet Studio Film Short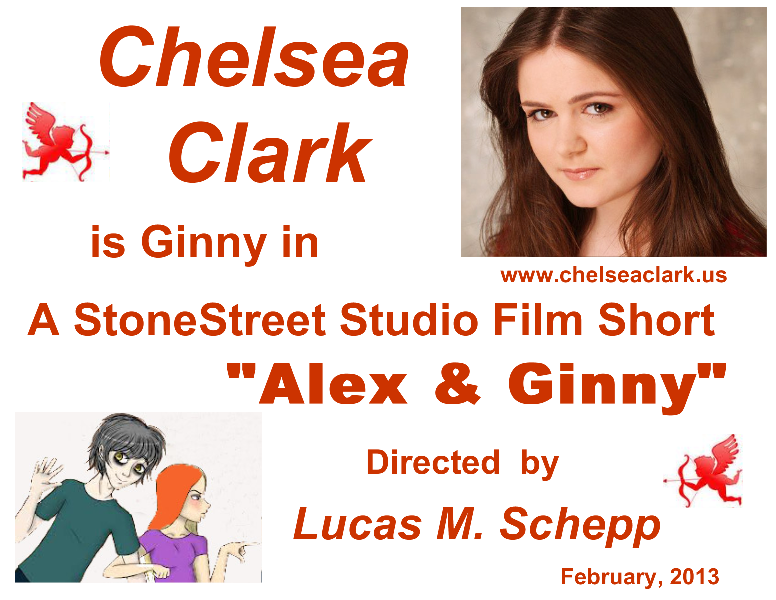 PC GOENNER TALENT AGENCY – Now represented by regional midwest PC Goenner Talent Agency, with offices in  Ohio (Columbus, Cincinnati and Dayton)